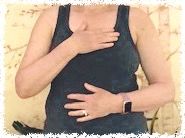 This is a time of roller coaster highs and lows that seem to arrive in the form of ever changing energy, emotions, weather, and motivation.  I have been finding these recent weeks a time of both a calling to start new projects alongside days of restlessness and narrow bandwidths.  We all are doing the best we can right now.
With the stream of 24 hr news and an uncertainty as to what the future will hold and how to return to a "new normal" of life, there is an underlying hum of tension running in the background for many of us in our minds, bodies, and nervous systems that needs our attention right now. All this occurring while Spring continues to unfold before us with summer knocking at the door.

Lately, I have been playing around with the practice of noticing my breath when I am off the yoga mat and in the ordinary moments of my day. One of my teachers, Jillian Pransky, says the very thing that we practice paying attention to while on the mat of slowing down to witness our body and breath is what prepares us to approach life off the mat where the real work actually is. She reminds us to do this throughout the day as a way to shift our nervous systems and give us more resources with which to respond to ourselves and to the world around us.
For me, this continues to be a work in progress remembering to pay attention, to pause, and to find moments within the routines of daily life while waiting for morning tea, preparing family meals, walking the dogs, or before going to sleep. I begin by pausing and placing one hand on my belly and the other on my heart to witness where the breath is in my body. This invites the body to slow down, soften, relax, and allows peace to re-enter.
The next thing I do (when I remember),  is to ask myself  "what do I need right now?" or "what do I want to do now?"  A dear friend and teacher introduced me to the idea of asking this question throughout the day as often as possible as a way to lean into the heart and listen for one's highest calling in any particular moment.  When we were young, we did this naturally, rolling out of bed knowing exactly what we needed and wanted because we listened in.  
When we remember to observe what's going on within our internal landscape, our path becomes clearer allowing us to access the answers that lay buried in plain sight within the heart. Slowing down to consciously notice your breath invites inner stillness and allows the nervous system to shift and relax, ultimately leading to well being. Give it a try and see if the inquiries above help to ground you and return you to that place that is silently waiting for your attention.